Whether you're looking to soothe irritated skin, brighten dull complexion or simply boost your mood, we've got skincare's best-kept secret that'll give you that instant pick-me-up you and your skin needs – Floral Water.
Yes, you've heard that right. Similar to micellar water, essences, face oils and face mists, floral water is often overlooked as being the "nice to have'' item in our beauty bag.
While many of us assume that floral water is just overpriced scented water in a spray bottle and a face mist is unessential to our daily routines, it's actually much more than that.
What Is Floral Water?
Floral water is more than just water!
Organic floral water, also called hydrolate or aromatic water, are pure extracts carefully obtained through steam distillation from organic aromatic plants.
It's safe to say they have the beneficial essences of facial essential oils, but are less concentrated which leaves your skin refreshed, grease-free and revitalised.
These 100% organic floral waters do not only refine and boost skin texture but also hydrate, heal and rejuvenate the skin.
Why Do I Need Organic Floral Water?
Floral water is vital to any skincare regime as it hydrates, refines and refreshes your skin no matter your skin type. And the best part is that a cooling relief is just a quick spritz away!
It fights dryness and prevents dehydration of the skin, making it essential especially for hotter and drier climates. It ensures a healthy and strong skin barrier throughout the day and keeps your skin resilient against any environmental stressors.
A Great Addition To Your Everyday Skincare Essentials
The Florame Organic Floral Waters are distilled from 100% natural and pure extracts from certified organic plants, whose efficacy has been renowned for millennia.
Suitable for dry to sensitive skin, they also contain antioxidants that help guard the skin against irritants and daily exposure to city pollutants which may cause premature ageing.
How Organic is Organic?
There are a lot of skincare products in the market today that prides themselves as being organic or pure, but on the flipside are made from more than 20 artificial ingredients.
Florame, headquartered in the Provence region of France, has been an expert and pioneer in organic cosmetics since 1990. From the steam distillation process to production, all Florame floral waters are 98% organic. The remaining 2% is black radish root which is a natural alternative to synthetic preservatives.
Florame is also certified organic by ECOCERT Greenlife according to COSMOS standards.
Is Floral Water The Same As Toner?
Simply put, no they are different and have different functions.
Toners are water-based astringents that help deep clean your pores and remove any trace of impurities in your skin. It is usually used right after cleansing to get your skin prepped for serums and moisturisers.
Floral waters are aromatic waters that come from the distillation of botanical plants such as flowers.
Besides acting as an instant pick-me-up, we can use floral waters in between skincare steps, as an aftershave, and as a leave-in hair conditioner.
How Is Floral Water Made?
There are 2 types of processes that go into making Floral Water:
1. Steam Distillation of Essential Oils
Botanical plants go through steam distillation, which separates the essential oils from the Floral Water. This means, there is a small percentage of essential oils in our Floral Water.
2. Hydro Distillation
This is a method that is unique to some plants, like our Rose Floral Water.

Our organic Rose is cultivated in Zelenikovo, Macedonia within 50 hectares of fields. The valley of roses has a microclimate with strong variation in temperature between day and night. This high amplitude stresses the plant and stimulates the synthesis of the essential oil, which evaporates during the day due to the heat and sun.

It is for this reason that the harvest takes place at sunrise. Harvests are done by hand; one person can usually pick 20 to 25 kg of flowers and 40 people are needed at the production site. Harvest period is from May to June, and lasts between 20 to 40 days.

Our organic Rose floral water is obtained by hydro distillation with cohabitation. This involves filling vats with the fresh roses and water. This method is used because in the case of steam distillation, the steam would fail to pass through the flower mass. Indeed, 1 ton of fresh flowers is needed to make 1 ton of hydrosol!

Then, the resulting distillation is distilled once again in a closed circuit to concentrate the hydrosol. This process lasts between 1.5 to 2 hours.

During production, Rose Essential Oil is concentrated into the hydrosol. In short, Rose Hydrosol is not a "by-product" of distillation.

The amount of Rose Oil in Organic Rose Floral Water is approximately 0.5%. This is the amount necessary for the moisturising, anti-inflammatory, antibacterial and disinfectant properties to be suitable for all skin types. Each year, between 100 to 120 tonnes of organic Rose Hydrosol are produced!
What Is The Right Way of Using Floral Water?
You can use it twice a day, more if you're travelling. If you're using it as a skincare step, be sure to follow up with a moisturizer to lock the moisture and hydration in.
Floral water can be applied directly to the face, the body or the hair:

• Skin care: facial spray, skin tonic, after-shave lotion
• Hair care: leave-in conditioner
• Well-being: refreshing spray
What Kind of Floral Water Is The Best For You?
Looking for the best facial mist that compliments your skin type? Here's a quick and easy guide to help you choose the right floral water for your needs.
For Dry and Sensitive Skin
If you have dry and sensitive skin, the Florame Organic Cornflower Floral Water is one of the best hydrating face mists that also has soothing and revitalising properties. It helps hold in moisture and heal damaged skin barriers, leaving your delicate and sensitive skin moisturized and rejuvenated.
Obtained through steam distillation of organic cornflower, this floral water is gentle and offers fast soothing properties. Perfect for a refreshing spritz after staring at a screen all day long!
Tip: Place the bottle in the refrigerator and mist it over your face, for an instant mid-day boost!
For Normal to Combination Skin
Need a refreshing mid-day boost for normal to combination skin? Try the Florame Organic Witch Hazel Floral Water that will keep your skin purified and hydrated throughout the day, thanks to its astringent properties.
Organic Witch Hazel helps even out skin tones and has soothing virtues that reduce redness and lifts any excess sebum, leaving your skin glowing and dewy. Another favourite for normal to combination skin is the Florame Organic Rose Floral Water.
Tip: Did you know that Witch Hazel Floral Water can be used as a deodorant as well? Spray some directly onto your underarms. Its purifying properties will help prevent body odour!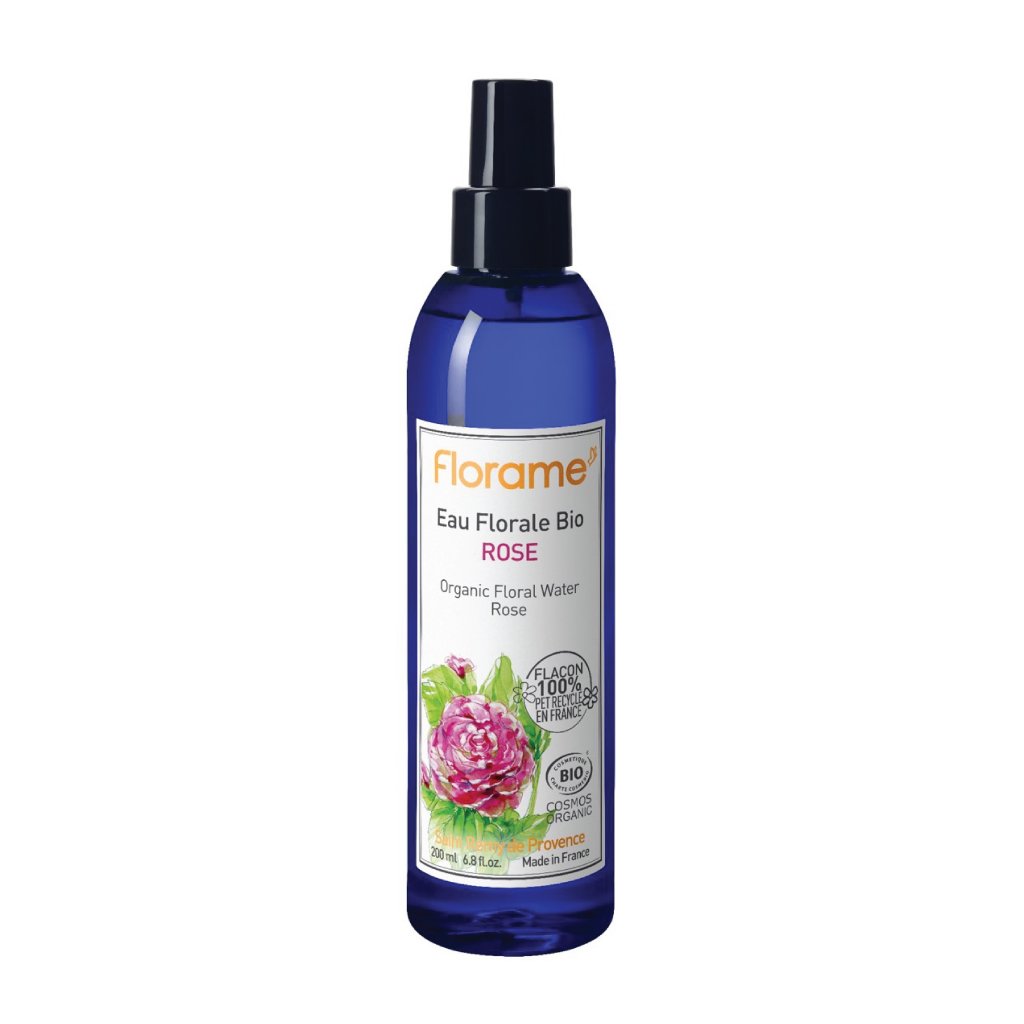 For Oily Skin
If you're looking for a face mist for oily skin, we recommend the Florame Organic Geranium Floral Water that helps reduce inflammation, soothe the skin and tighten pores, without leaving a sticky feeling. Thanks to its renowned astringent properties and oil control feature, this divine floral water absorbs quickly and acts as a great toner as well.
Tip: For men, try it as an after-shave step! It helps tighten pores, prevent oil build-up and soothes the skin.
For Acne-Prone Skin
Floral water that is rich in antioxidants such as the Florame Organic Tea Tree Floral Water, is ideal for acne-prone skin. Renowned for its purifying and stimulating properties, it combats against inflammation and imperfections of the face, chest and back, and relieves discomfort.
If you have oily hair, this floral water can be sprayed onto your damp hair after washing. Massage and leave in, it's an ideal treatment for oily hair and scalp!
Tip: Did you know that you can prevent bad breath by using Organic Tea Tree Floral Water as a mouthwash! Dilute 1 teaspoon in a glass of water, and gargle for that instant refreshing breath.
Let's Face It
Floral Waters are a good-to-have item in your skincare routine, it's a convenient way to give your skin an extra refresh and improve your overall skincare regime.
The key is to know which floral water works best for you and to make sure that it is packed with genuinely pure ingredients. Have a browse at the range of Florame Organic Floral Water we have at the RAW Nature online shop and spritz away!